November 3, 2013 in Event
Duo Samskara:
Featuring Jonathan Voyer, santoor and Shawn Mativetsky, tabla.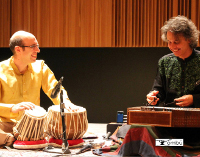 Raga: Colours of India. This concert of Hindustani music is perfect for curious audiences wishing to be charmed by a subtle, refined music, marrying virtuosity, lyricism, and improvisation. The enchanting sonorities of the santoor and the rhythmic nuances of the tabla transport the listener on an exceptional musical voyage.
Thursday, November 7
22:00-23:00
Gallery Gora
279 Sherbrooke W., #205, H2X 1Y2